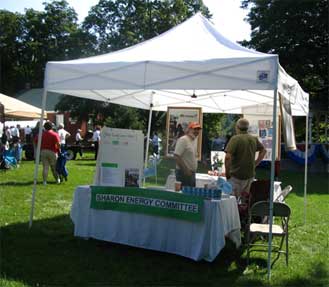 Sharon Energy Committee welcomes new participants to join our work bringing energy conservation ideas and tools to the community. Activities include distributing free energy-saver light bulbs every year at Old Home Days, working with the Selectboard on energy conservation grants, and working on local transporation issues.
Mission: The Sharon Energy Committee works with the Town, its residents and businesses to help reduce energy use, save money and protect the environment.  The Energy Committee normally meets at 5:15pm. the 2nd Monday of the month at the town offices.  You are welcome and encouraged to join us!
Current Sharon Energy Committee Members are Dee Gish-Chair, Carol Sheldon, Michael Barsanti and Margaret Raymond.
We hope you find the information and links on this page helpful. If you have questions or suggestions, please contact Dee Gish at deegish@gmail.com or phone at 802-763-8539.
Home Energy Challenge Information
Heating homes in Vermont accounts for close to 60% of residential energy use. Home weatherization reduces cold winter drafts and summer heat gain, controls moisture, provides adequate fresh-air ventilation for healthy living, and tests appliance combustion for efficiency, carbon monoxide, and adequate exhaust.
Homes weatherized through the Home Performance with ENERGY STAR Program and Vermont's Weatherization Program typically save 25 to 30 percent on heating costs, for annual savings of $750 to $1,000. While much more extensive "deep-energy" retrofits can achieve 75 to 90 percent savings, retrofits cost more and have longer payback periods than home weatherization. Home weatherization is one of the most cost-effective ways to reduce energy use, save on energy spending, and increase home comfort.
In January 2013, Efficiency Vermont, in partnership with Vermont Energy and Climate Action Network (VECAN) and other organizations, launched a one year effort to increase the number of homes completing comprehensive energy efficiency improvements in Vermont.
During the Challenge, town energy committees and other local partners will compete with other communities in their region. These local partners will have a target of weatherizing 3% of the homes within their community in the one-year period. Community prizes will be awarded for the top towns in each region, as well as a statewide award for the top region and town. The Challenge will help Vermont reach its statewide goal of 25% energy savings in 80,000 homes by the year 2020.
Sharon's goal is to weatherize 20 homes.
To learn more, visit:
http:/E:\\Programs\\xampp\\htdocs\\sharon.efficiencyvermont.com/for_our_partners/community_partners/residential/home-energy-challenge-pledge.aspx
PACE:  The Energy Committee would like to thank Sharon voters for passing the PACE (Property Assessed Clean Energy) program at last year's Town Meeting. PACE is a financing program designed to help qualifying homeowners invest in specified energy efficiency and renewable energy improvements.
Information regarding PACE can be found at: http:/E:\\Programs\\xampp\\htdocs\\sharon.veic.org/ResourceLibrary/PACE.aspx
Until further notice, Sharon homeowners interested in PACE financing, should contact Peter Adamczyk with Vermont Energy Investment Corporation at 802-540-7631, padamczyk@veic.org.
GREEN-UP DAY 2014!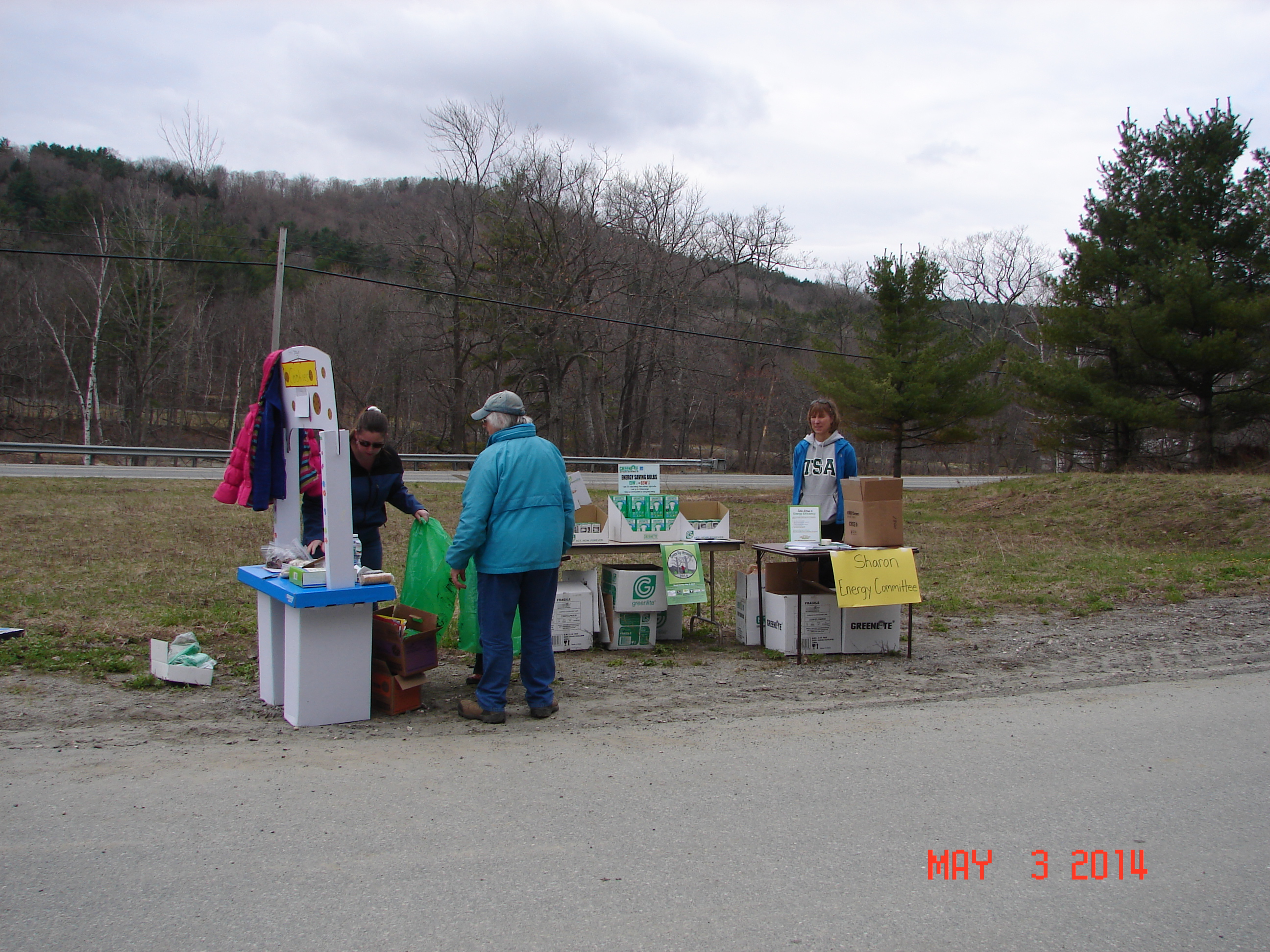 Save Energy and Save Money! Conserving energy not only saves you money (in lower electricity and fuel bills), but it also reduces your contribution to global climate change. Here are some easy ways to get started:
1. Exchange your incandescent light bulbs for compact fluorescent bulbs.  Free compact fluorescent bulbs are available at the Sharon food shelf.
2. Turn off lights and appliances when not in use. Plugging appliances into a power strip, and then turning off the power strip, is an easy way to reduce electrical use by appliances that draw power even when turned off.  Coupons for power strips and efficient lighting can be found at www.efficiencyvermont.org. 
3. Make sure your home is properly weatherized.  Information about Vermont's Weatherization Program is available at:
http:/E:\\Programs\\xampp\\htdocs\\sharon.dcf.state.vt.us/oeo/weatherizatio and www.efficiencyvermont.org.
Search for Home Performance with Energy Star. 
4. Turn down your thermostat a few degrees in winter. 
5. Buy local.  By supporting local business, you drive less and keep resources in your community.
6. Reduce, reuse and recycle.  Compost your food scraps and yard waste.  This reduces contributions to landfills.
7. Make sure your vehicle tires are properly inflated.
8. Reduce vehicle idling.
9. Take public transportation or carpool with a neighbor at least once a week. 
10. Combine your errands and plan your driving route to maximize efficiency and reduce overall driving.
Did you know that a majority of Vermont's greenhouse gas emissions result from transportation?  Reducing the use of single occupancy vehicles will save money, save gas and reduce greenhouse gas emissions.
Here are some links to transportation options in our area:
Go Vermont is a resource for commuters who want to reduce the cost and environmental impact of driving. The program features a free carpool/vanpool matching service, ridesharing tips, and
practical information on getting around by biking, walking, bus, train and ferry.  Visit http:/E:\\Programs\\xampp\\htdocs\\sharon.connectingcommuters.or for more information.
Stagecoach bus service offers trips in and around the Upper Valley. For fares, complete schedules or to schedule pickups, contact Stagecoach at 802-728-3773,
scoach1@sover.ne orwww.stagecoach-rides.org.
Advance Transit provides free bus service between the core Upper Valley towns: 802-295-1824, info@advancetransit.com,
schedules are online at www.Advancetransit.com.
Vital Communities provides a comprehensive map showing all Upper Valley bus routes at
www.vitalcommunities.org/Transport/transportmap.htm.
Upper Valley Rideshare provides free carpool matching services for commuters in VT and NH, with FREE Emergency Ride Home benefit
for all registered carpoolers.  Visit  info@uppervalleyrideshare.com, www.uppervalleyrideshare.co and
 www.vermontrideshare.org.