The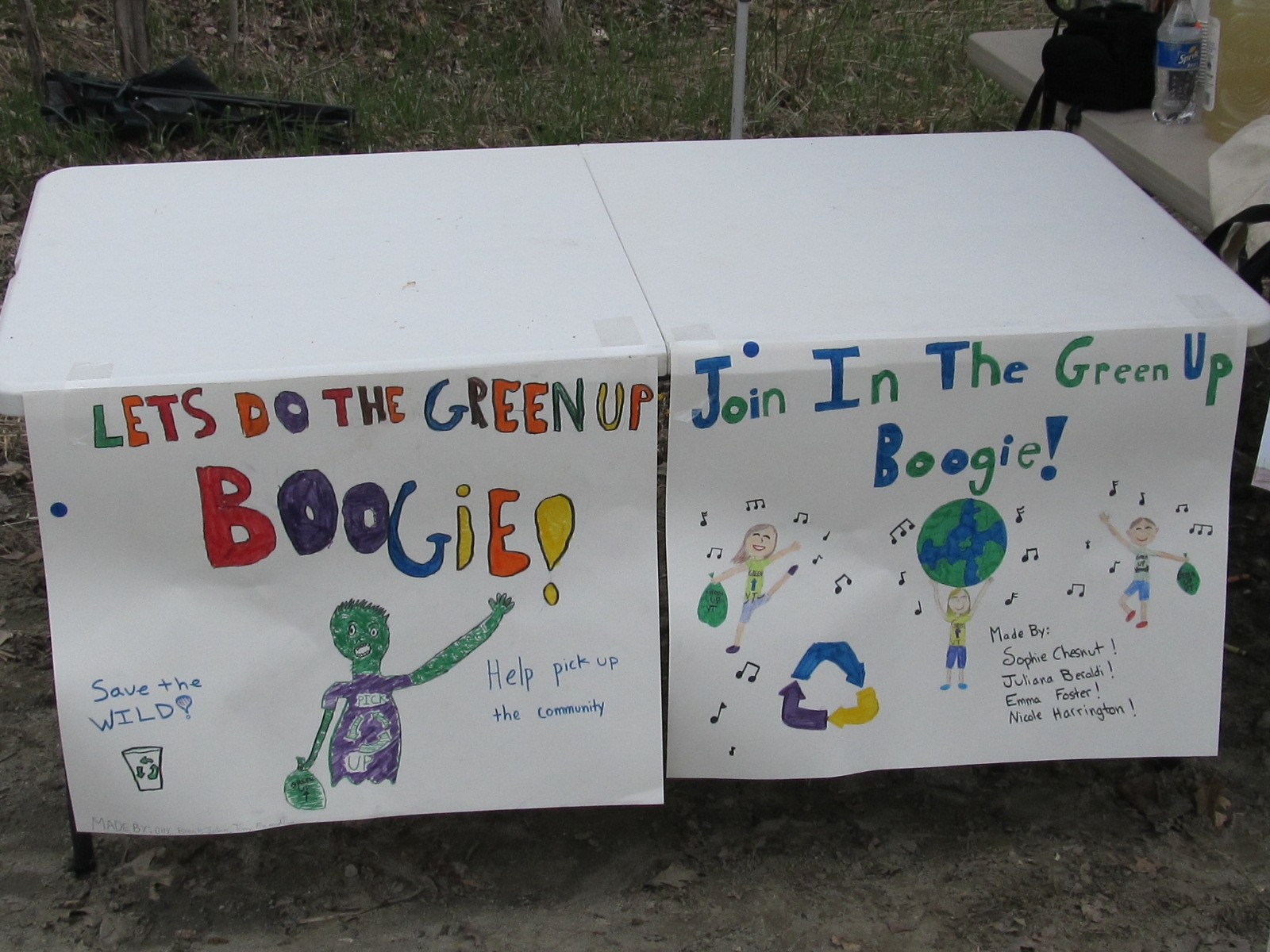 Sharon Conservation Commission
Vermont established legislation (24 V.S.A> Chapter 118) allowing towns to set up conservation commissions. Sharon's Conservation Commission started in 1989, with the goal of establishing community responsibility and stewardship for its natural resources. Some of the duties may include: making an inventory and conducting continuing studies of the town's natural resources, enhancing public awareness of scenic and recreational resources.
Sharon Conservation Commission projects (past and present) have included:
Statewide 

and local Sharon Green-up Events

Downer Forest Ski Trails

White River Access site

Town Forest (Ministers Lot) PlanTown Forest (Ministers Lot) plan

Development and maintenance of the Rikert Veterans Memorial Trail

Various Plantings and events at the Sharon Elementary School

Participating with the White River Partnership and Linking Lands Alliance

Establishment of the Conservation Fund to conserve land and waters or natural areas for use pursuant to 10 V.S.A. chapter 155

Received various mini grants for conservation projects

 Evaluating wildlife corridors within the town

 Working with UVLT monitoring conservation easements in town
Members are appointed by the Sharon SelectBoard  (3-9 members are permitted by the Vermont statutes).
The current members are:
Karen Hewitt
Peter Lowes
Margaret Raymond
John Sears
Reuben Sotak
Fritz Weiss-Chair of Conservation Commission
Michael Zwikelmaier
For more information please contact:  Fritz Weiss, Chair at #(802)763-2474 or Mike Zwikelmaier #(802) 649-2940.
July 14 2014 Conservation Commission Meeting Agenda
Regular Meetings are the 1st Tuesday of the month at 7:00pm. at the Sharon Town Offices.
Fritz, Mike, and Eric putting up the new River Access sign!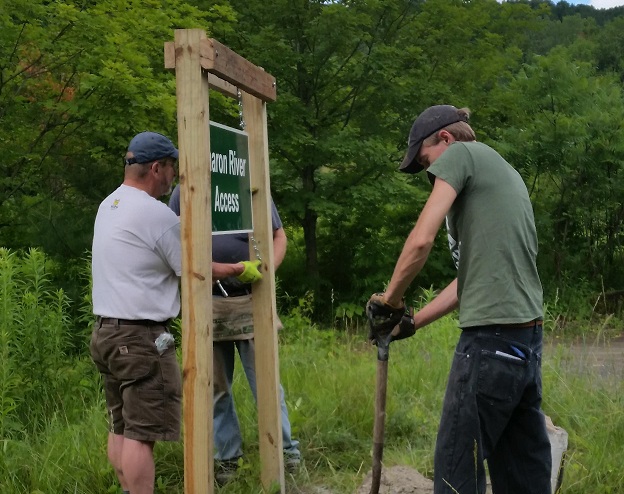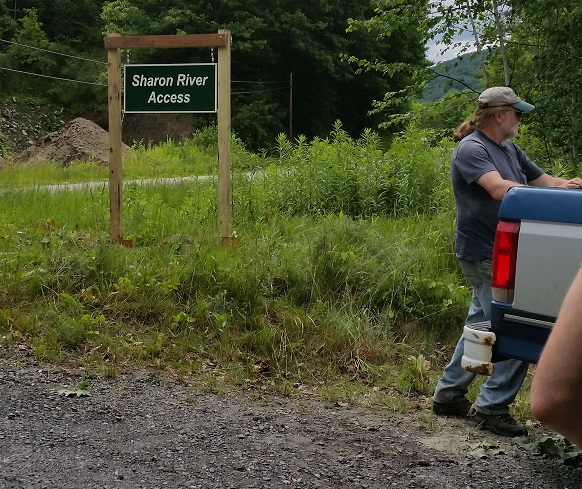 GREEN-UP DAY 2014Â  with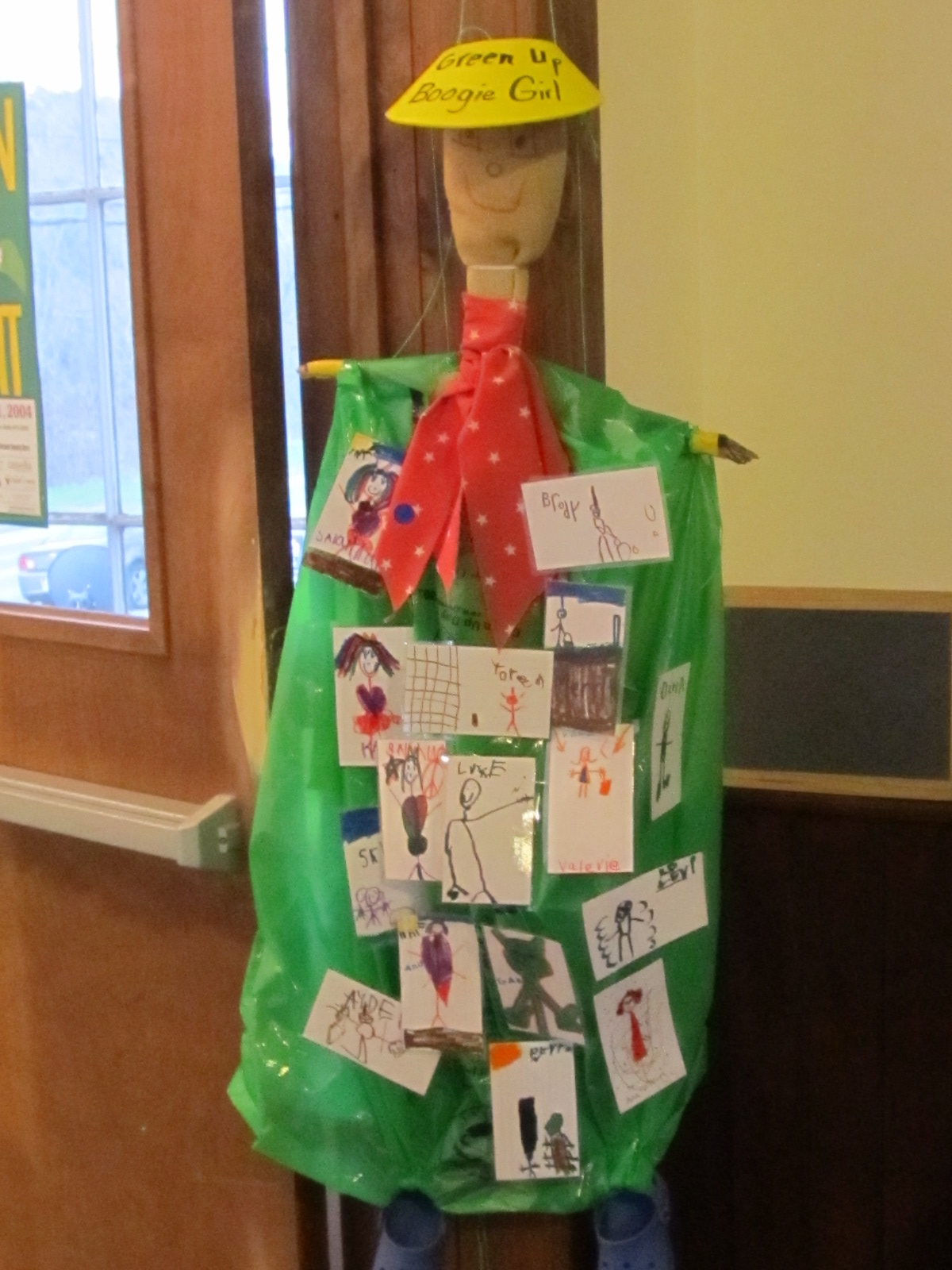 This may sound silly to some.
This may seem ridiculous to most.
But what we, the grateful inhabitants of this fair town of Sharon, did on and for GREEN-UP DAY 2014 transcends my wildest imagination!
Let me qualify the following numbers to say…as hard as we tried, we gave it our best shot!  Here we go!
Between earlier collections of roadside "hot spots" and Friday, the day before Green-Up Day, Saturday, May 3rd we weighed in, up at the town
garage, 2,720 pounds of Green-Up bags all gathered up by folks as yourself.  The Girl Scouts counted the vehiceles just once, though many made
more than one trip up the hill, between 9:00A.M. and 4:00P.M.  They totaled 91 vehicles in all, there were more who came when the gate was
open at 8:00A.M. Of this 2,720 pounds dutifully sorted by hand, at the end of the day (actually, we did not finish sorting until Monday), only 1,200
pounds was reweighed and ended up on the town's truck destined for the Lebanon Landfill in West Lebanon on Monday.  That truck's dump was 2,180
pounds in all.  There was a fair amount, 980 poinds, we did not weigh mainly for obvious reasons, futon mattress, baby mattress, hub caps, gas cans,
and the like.  The balance weighed 1,520 pounds was sorted into plastics, aluminum cans, and glass.  In turn, all of the 2,984 redeemables went to the
Midway Station amounting to $149.20, which the Sharon Conservation Commission used to buy the Girl Scount Cookies, treats to the many, many
volunteers coming and going all day long.  On Monday, May 5th, it took two trucks fully loaded to haul the remaining recyclables to the Hartford
Transfer Station, one truck carried four 50-gallon drums full of crushed glass.
Volunteers Art Stacy, Bonnie Dore, and Fritz Weiss.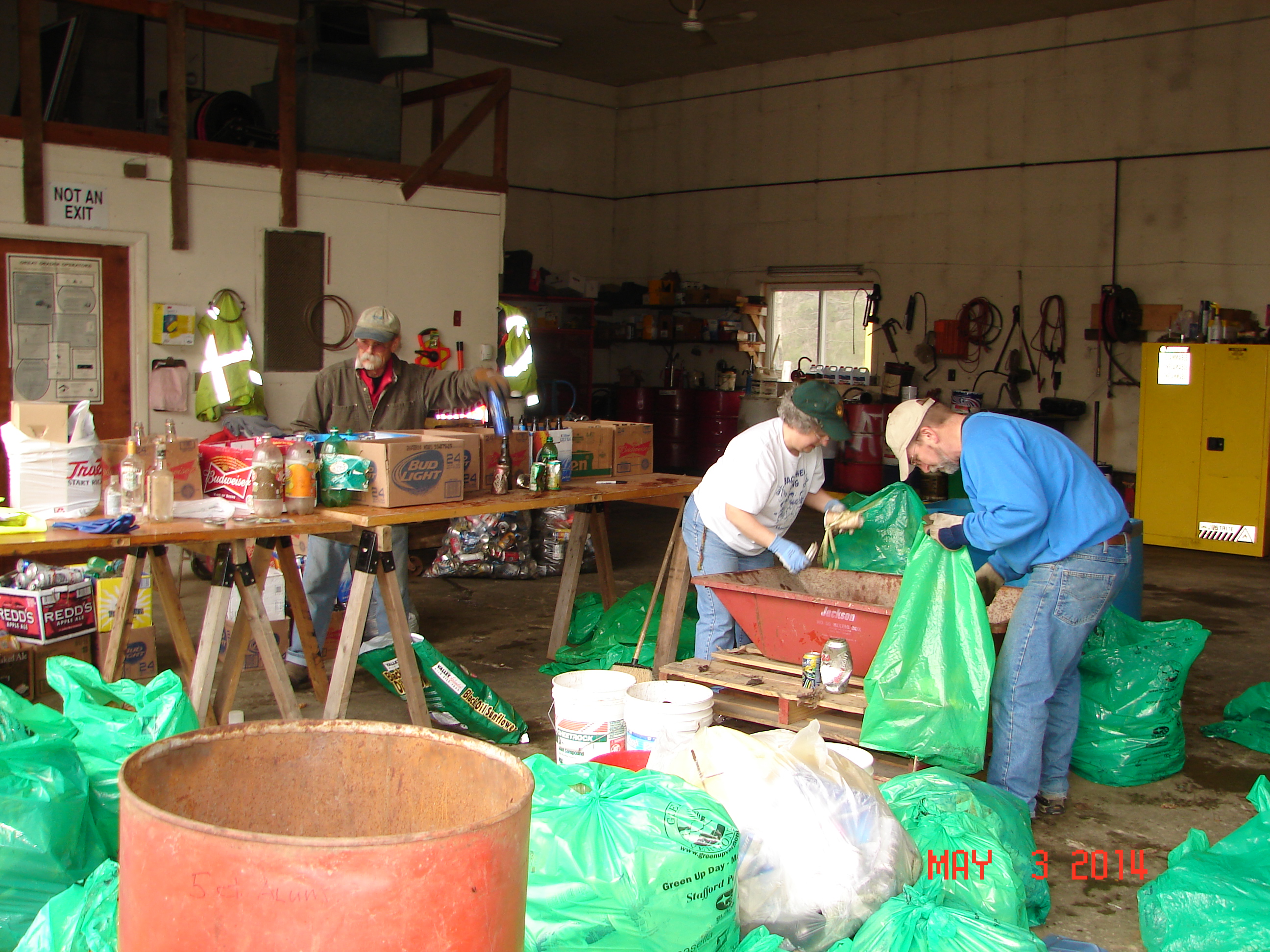 How many folks did all this?  A LOT!!  AND TO ALL OF YOU, THANK YOU!!!!  IT WAS ONE HECK OF AN EFFORT!!!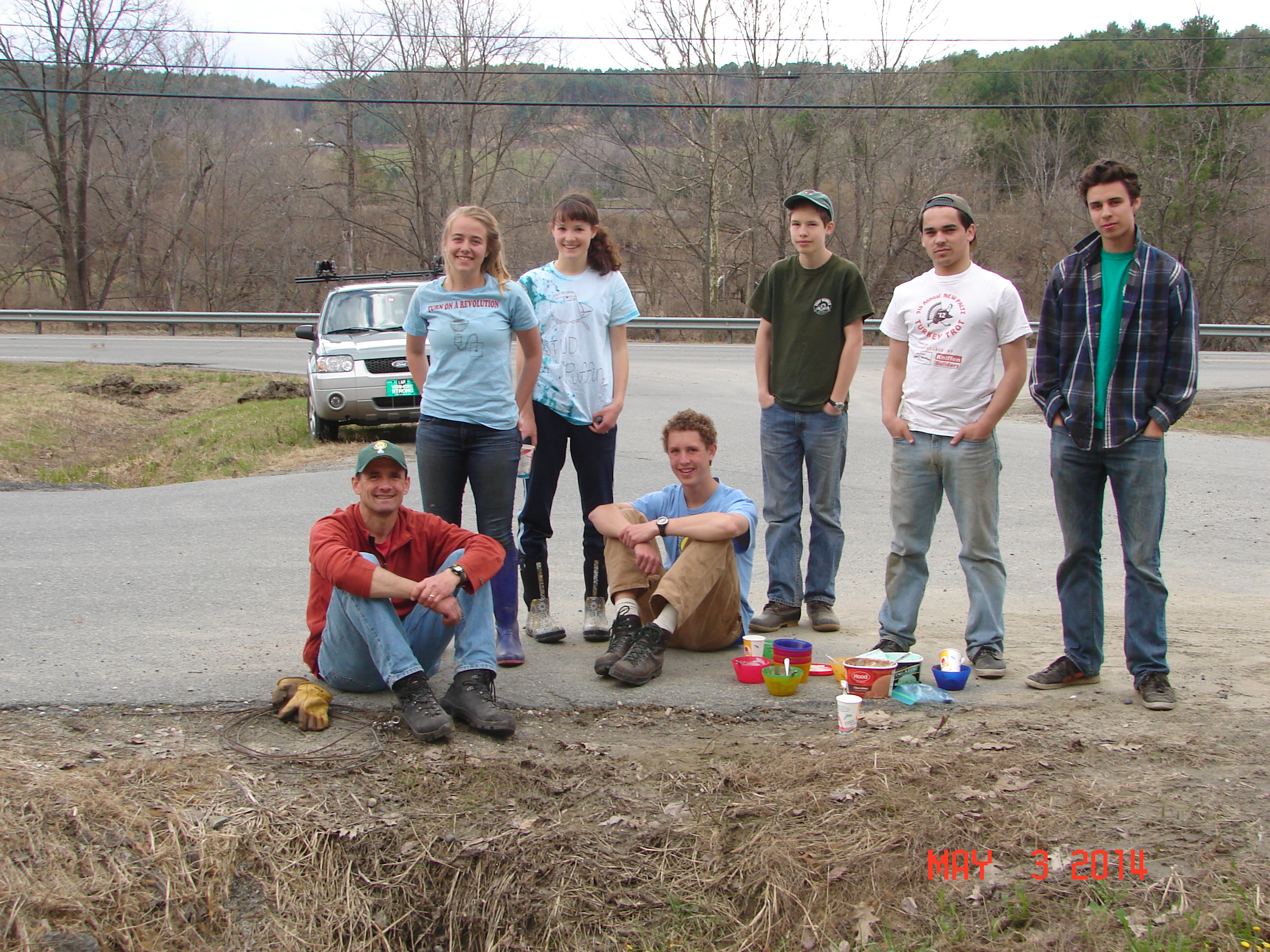 TSA Volunteers
Of course it would be nice to be put out of business…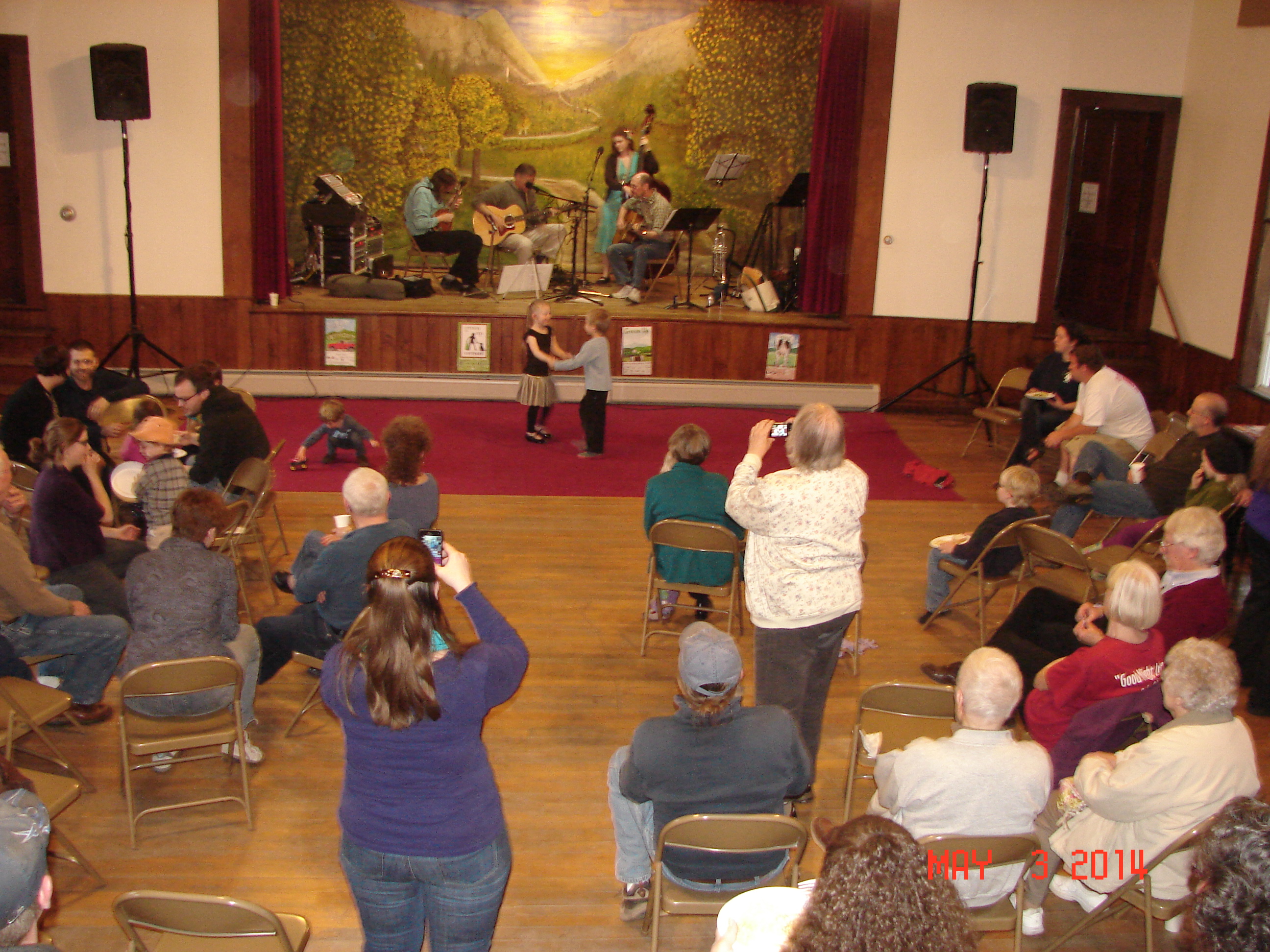 And, at 6 o'clock Saturday, May 3rd, at The Seven Stars, after the Sharon Town Garage Doors were closed for the night and the doors locked, we,
as in years past celebrated "a job well done" with our potluck dinner to the music of Bob Totz's "Out On A Limb" Band listening to their creation
of "You Got To Love The Green-Up Boogie".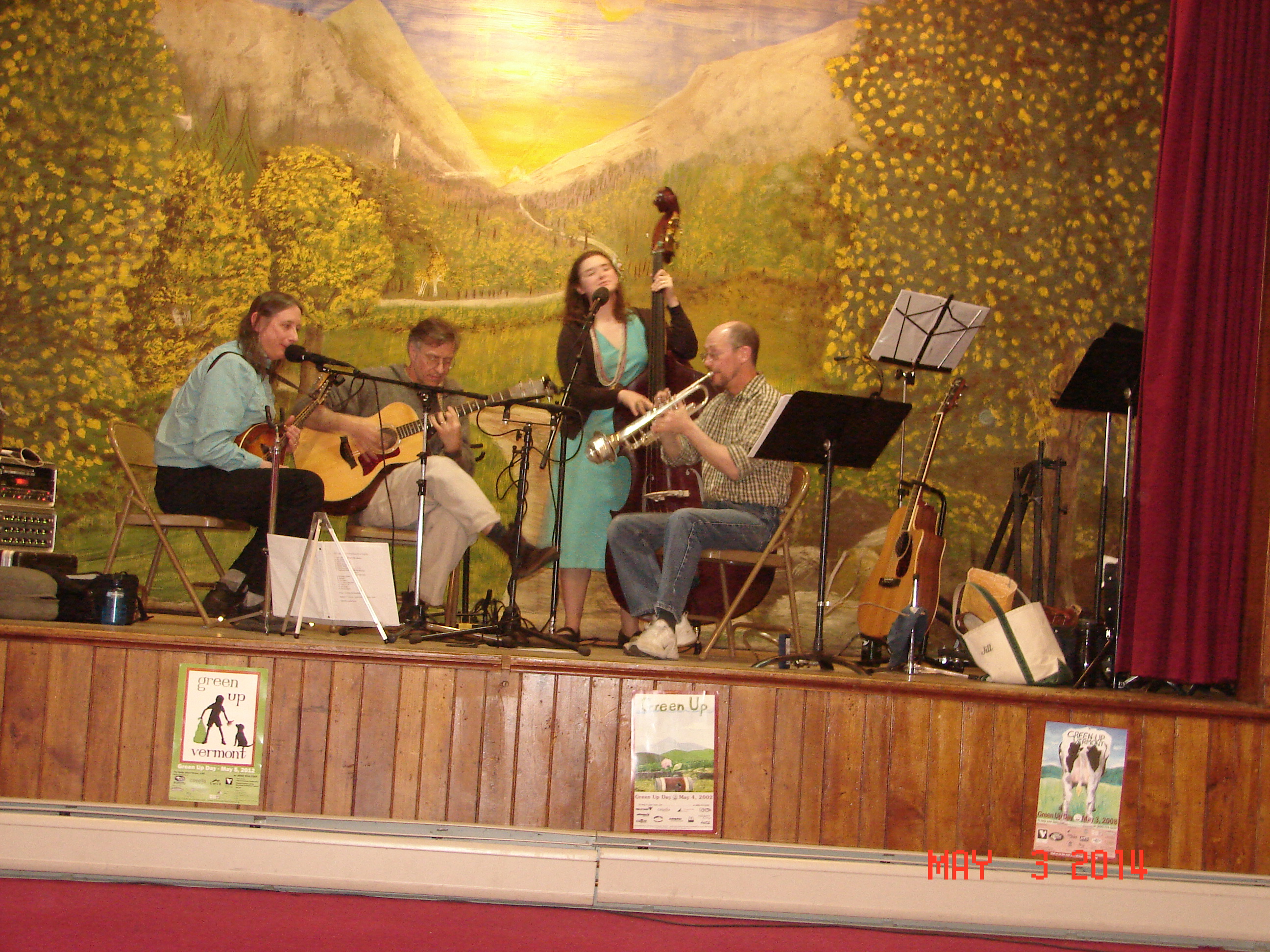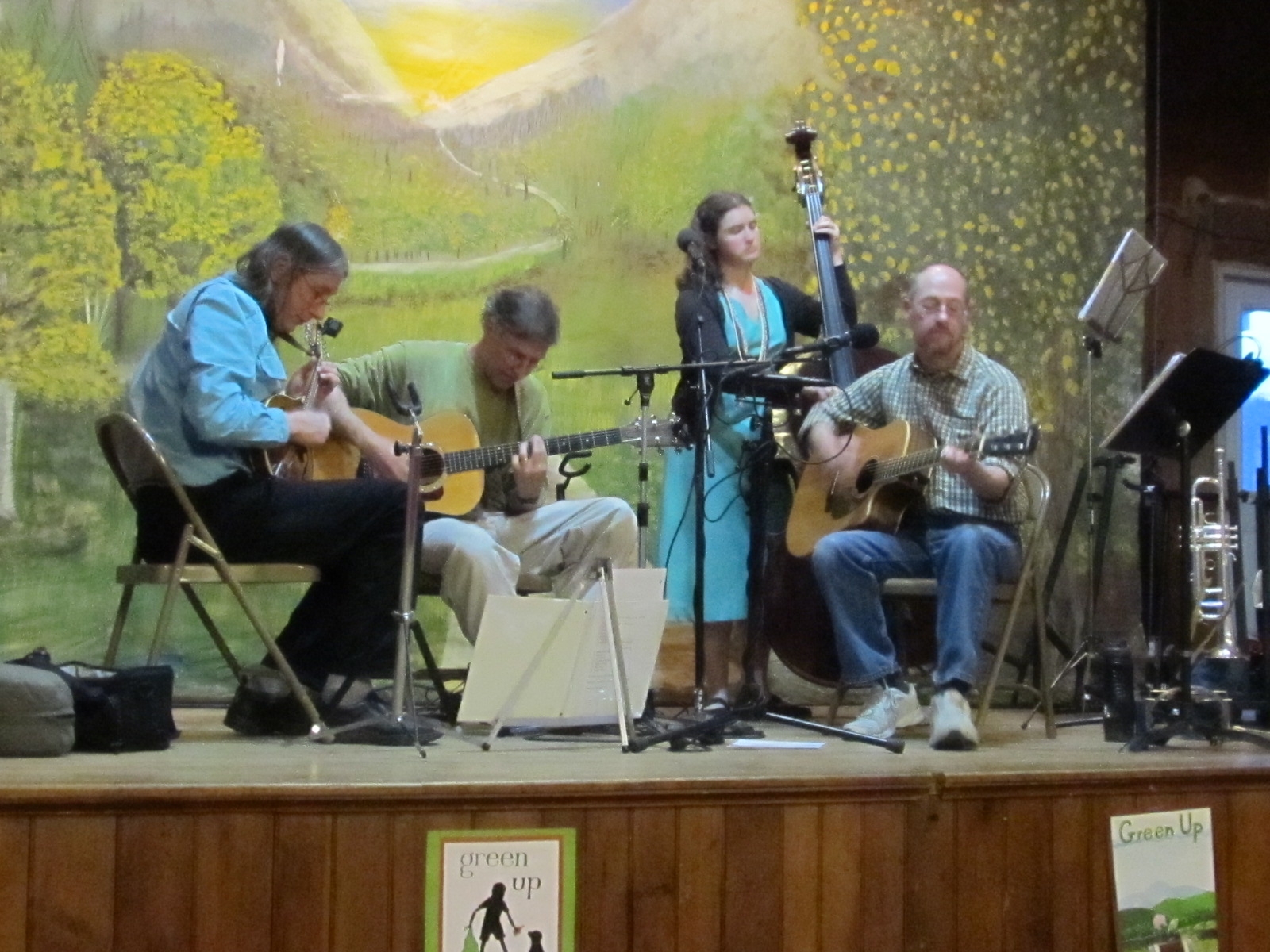 Sincerely submitted by Peter Lowes. 
Are you interested in helping to maintain Sharon's Green-Up Day efforts throughout the year, please do not hesistate to contact us: Peter Lowes #(802) 763-8745 or Mike Zwikelmaier #(802) 649-2940.
Sharon Elementary School Poster Contest with Community Judging.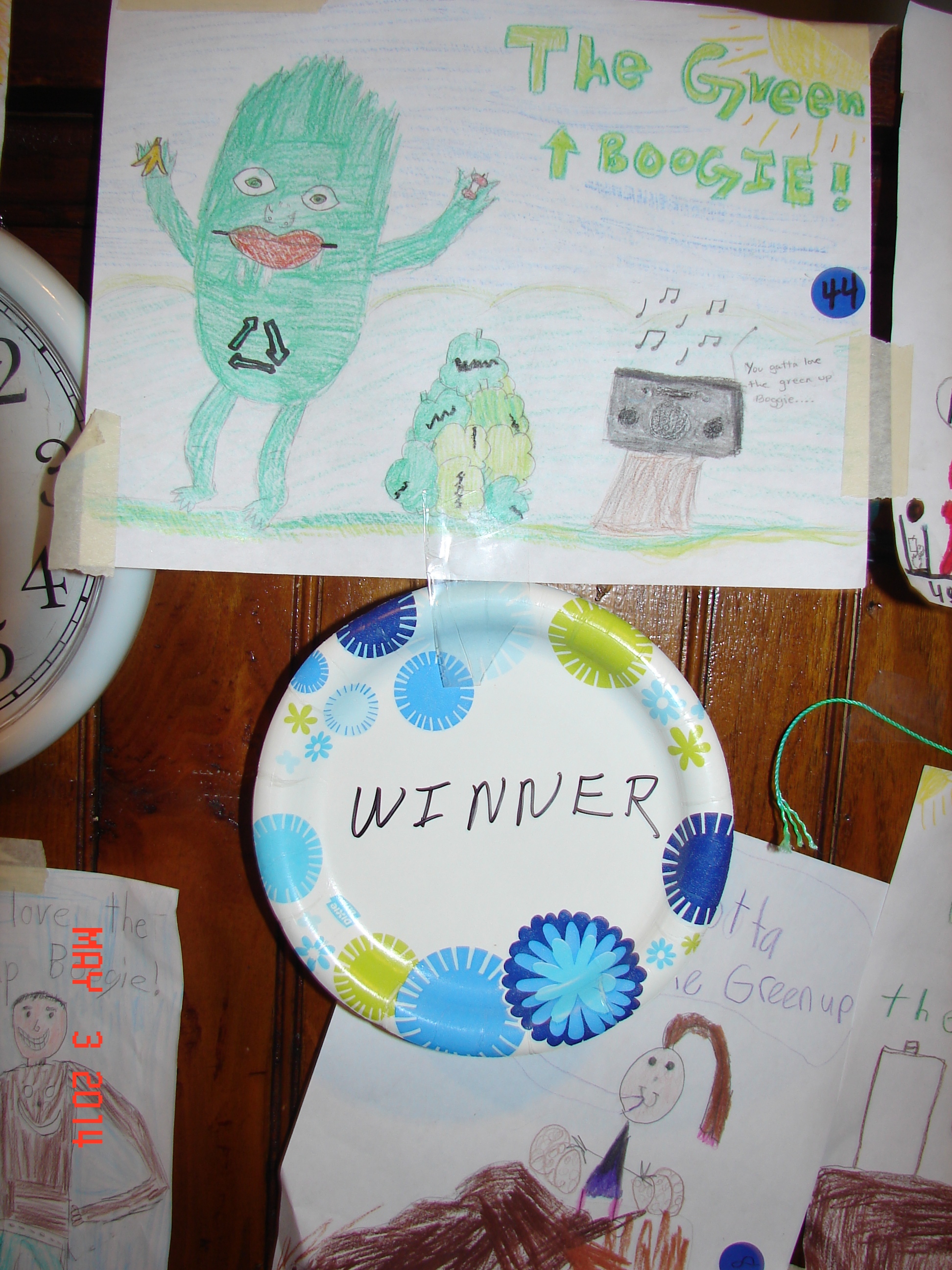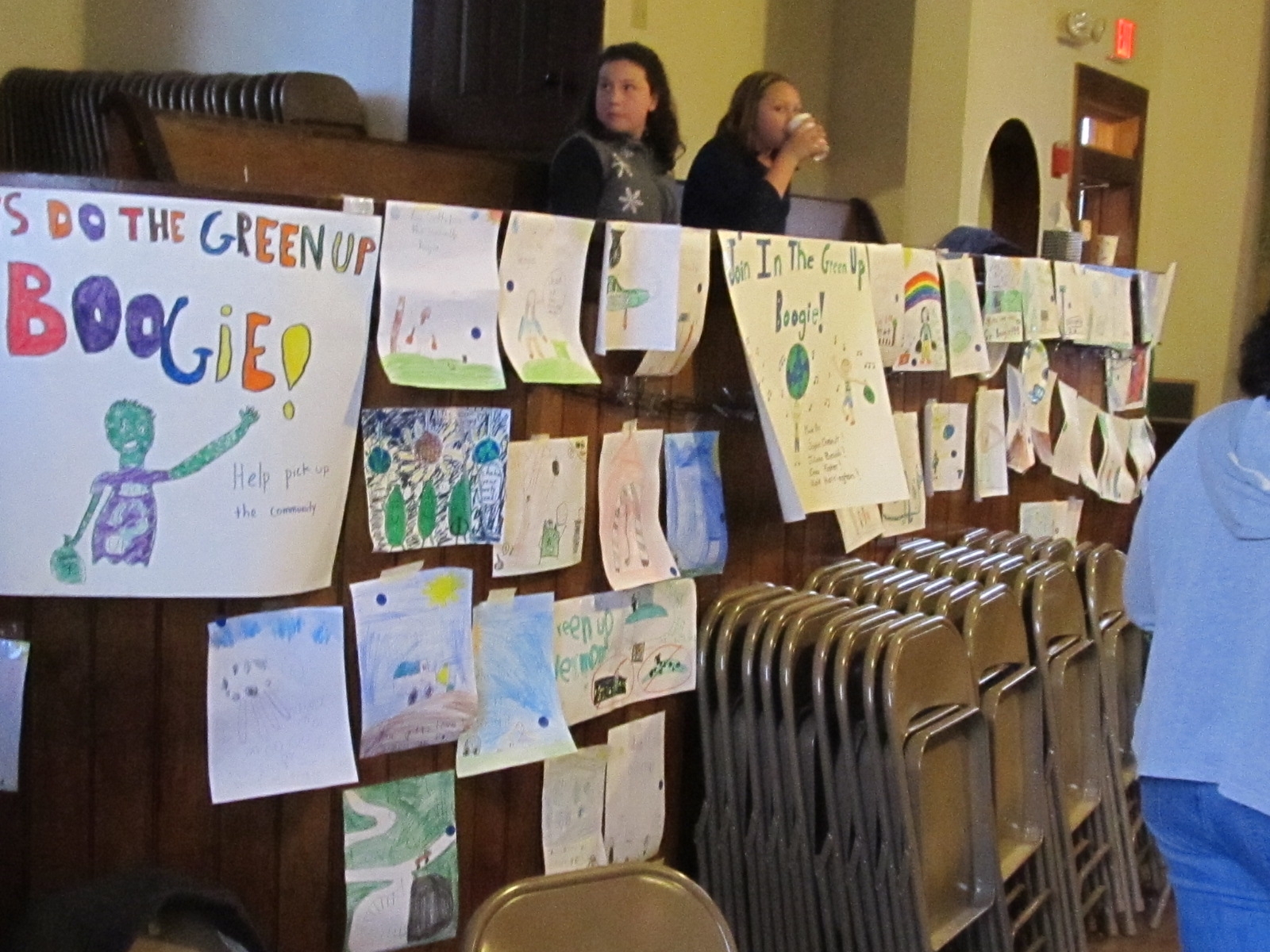 Foster Gardens Plant Sale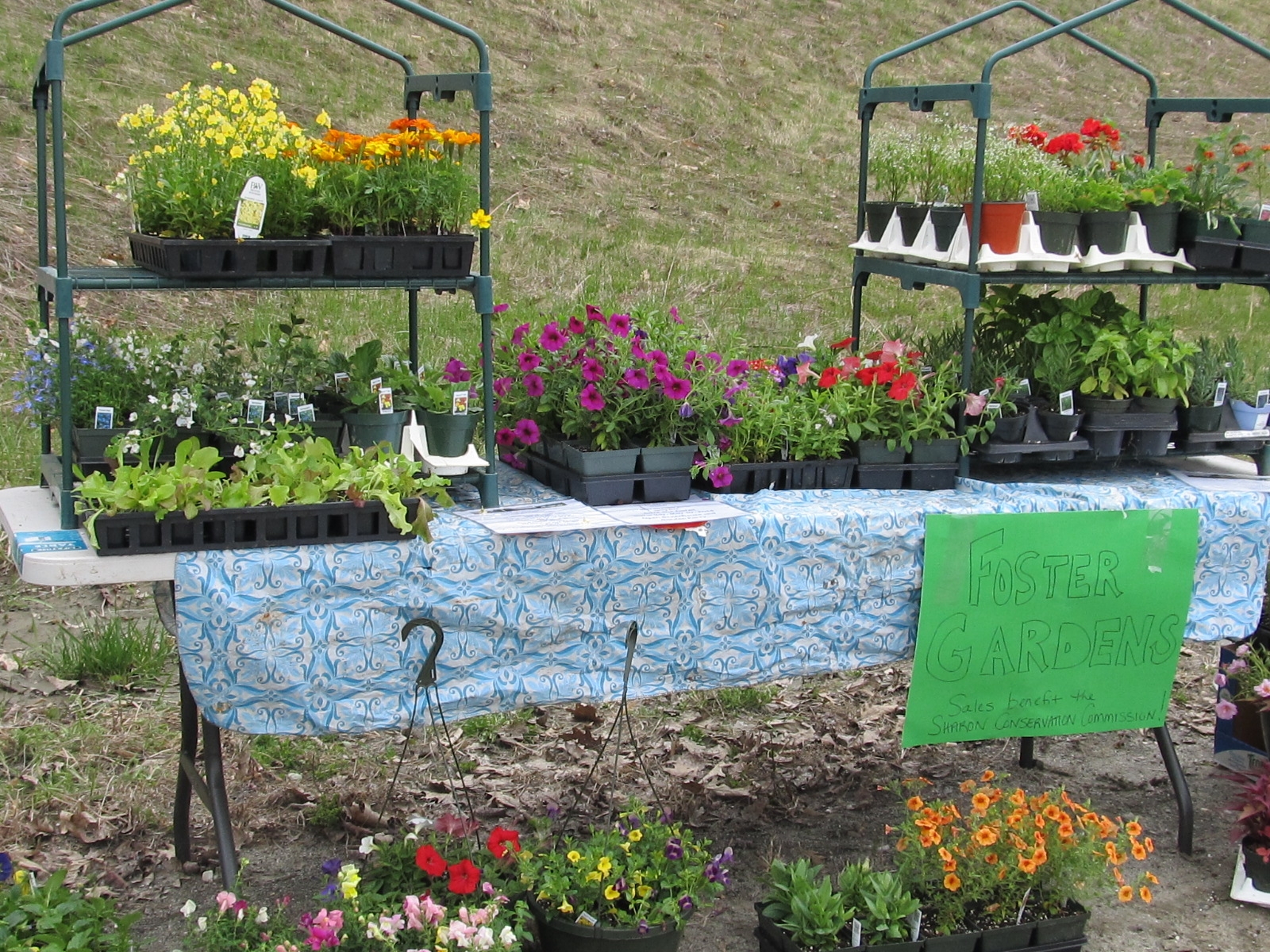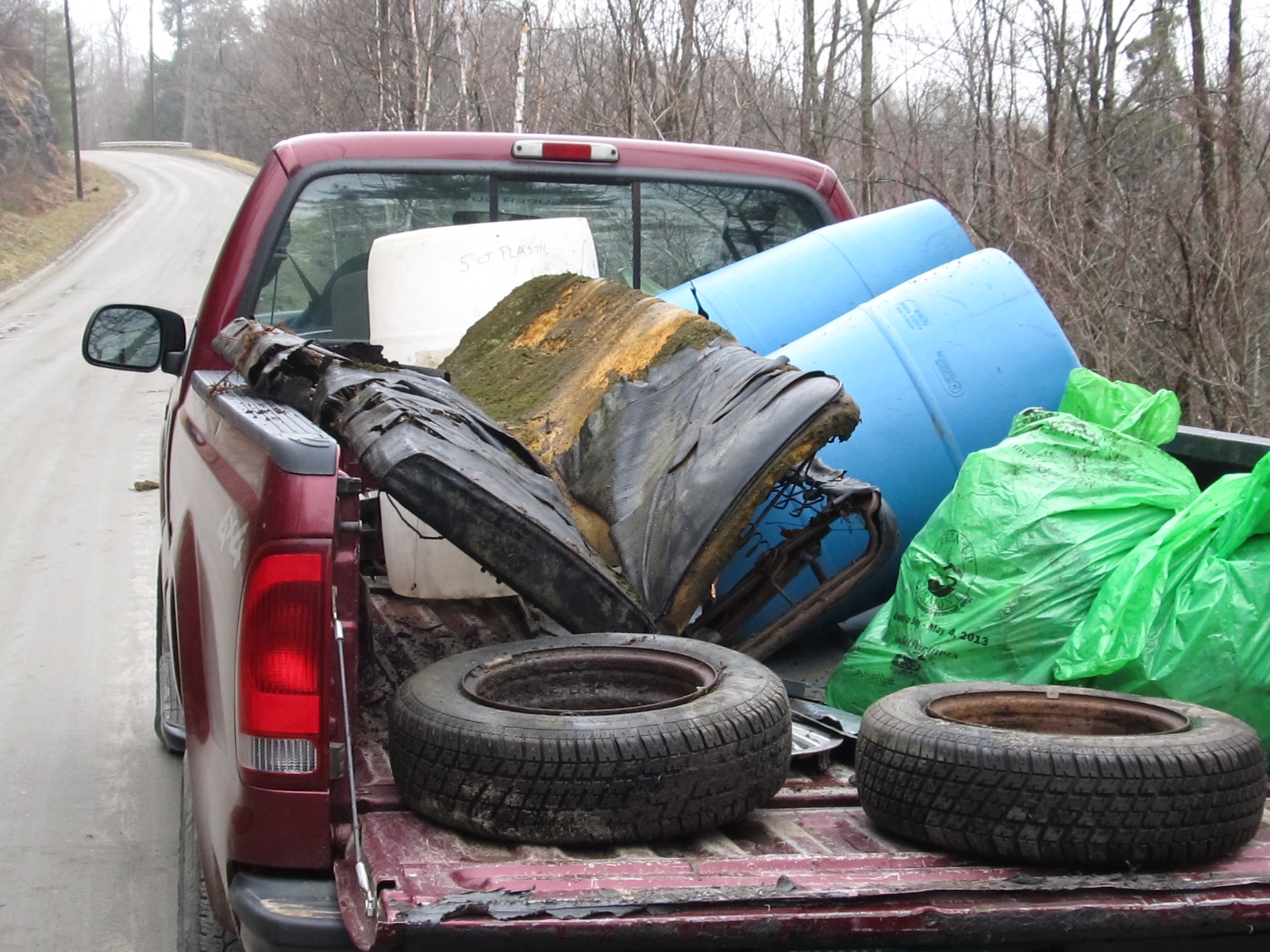 GUVSWD (Greater Upper Valley Solid Waste District) collection of  scrap metal, electronics, oil and tire collections (fees may apply) at the Town Garage.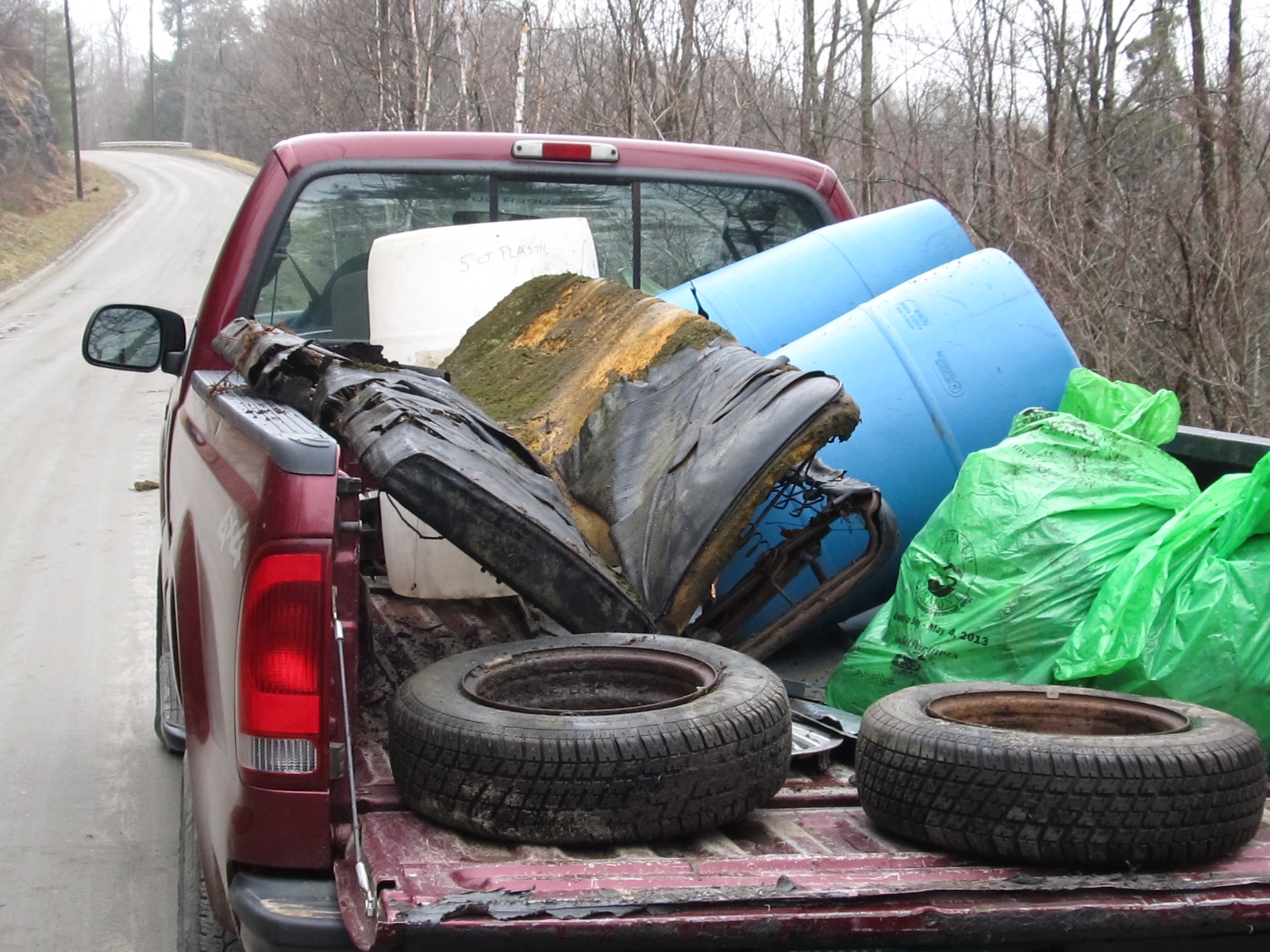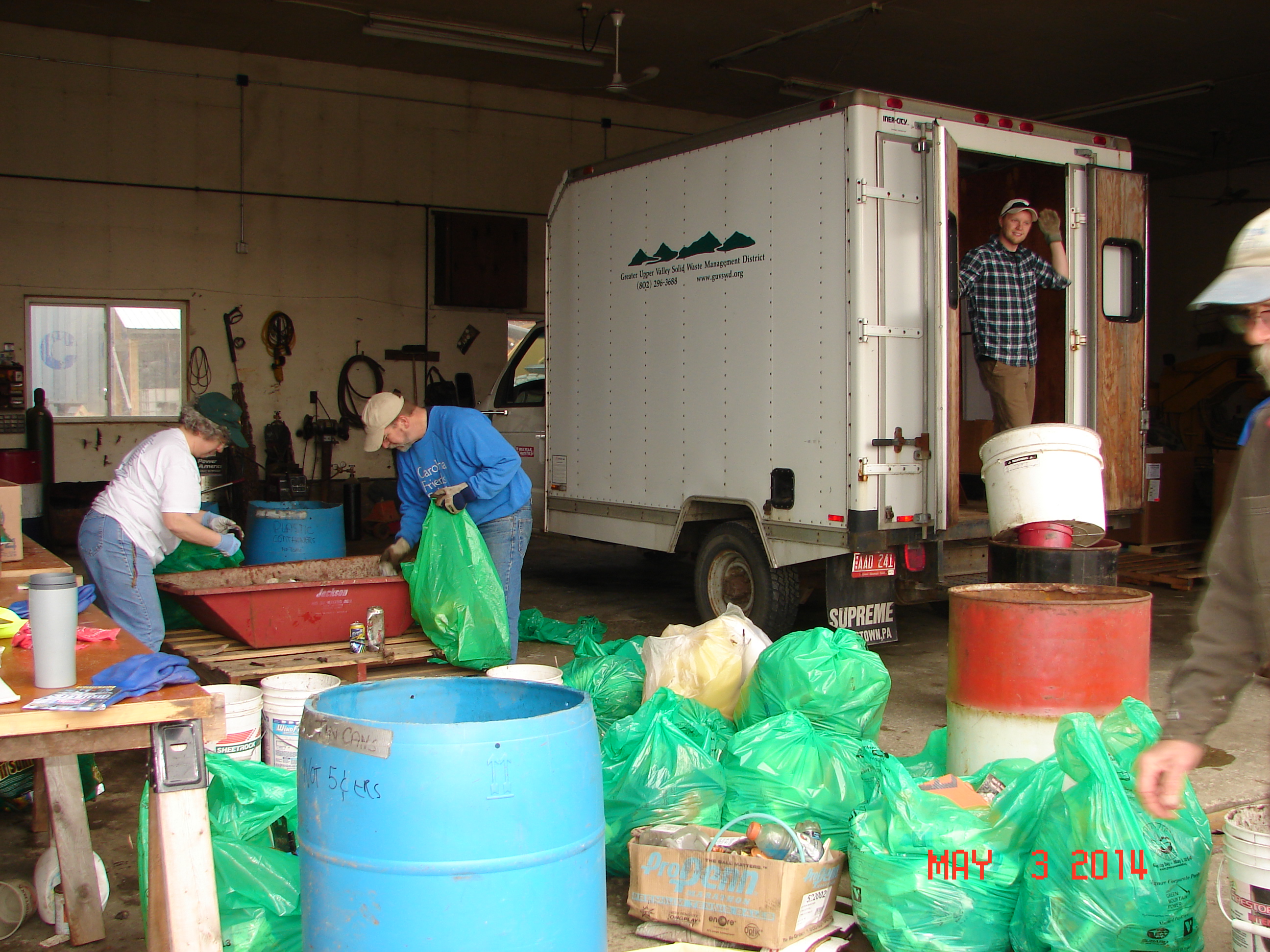 WE ARE LOOKING FORWARD TO HAVING ANOTHER GREAT GREEN-UP DAY SUCCESS IN 2015! Â